There are different types of users types you can use in your portal.
Each user type has different levels of access with your portal. User roles can be changed or updated at any point. A full description of the types can be found in LearnUpon's documentation, and we provided a summary below. Your options are:
Administrator

Administrators have access to do everything within your portal, and therefore should be restricted to only those who need it.
SafeStack have Administrator access, and we need this to help you manage your portal. Your organisation might require one or two people to have this access so they can manage user access for your learners.
Administrators can invite, edit, and delete users.
They can also enable and edit Single Sign-On (SSO) configurations.

Manager

Manages the groups that they are assigned under 'Group Managed'.
Permissions can be adjusted when the type is assigned. This includes giving them the ability to enroll learners on courses, manually mark learners as complete, and move learners between groups.
All Managers can run reports on their groups' progress.
For more support on managing Manager users in your portal, check out our page here.

Instructor

This role is currently not used as all content is produced and managed by SafeStack.

Learner

Learners are able to log in and take their courses.
Viewing user types
To see a list of the assigned user roles in your portal: From the Dashboard, go to Users. There you can filter on User Type and User Status.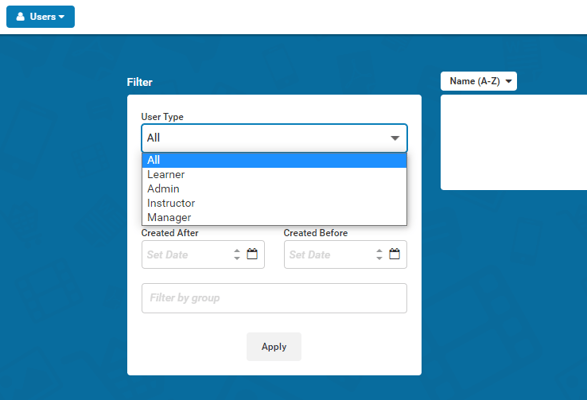 Changing user types
User roles can be changed or updated at any point. When you bulk upload users, they will automatically be given the Learner user type.
From the Users page: Search for the user you want to change. Select Actions at the top right and select Change Type.

From there, select the user type and hit Save on the bottom right. For Managers, you will also have to fill out some additional permissions before you save.