Having a community to share challenges and approaches with can really help with learning, so we've built community into SafeStack Development Academy through monthly online seminars.
Firstly, you'll need to be a SafeStack Development Academy member to access our seminars. Learn more about becoming a member here.
About our seminars
Our seminars are all about building community, so we encourage you to make the most of them by chatting with others, sharing advice, and asking questions.
It's a great chance to think about how what you're learning in your SafeStack Development Academy courses applies to what you're working on, or to challenges you or your organisation may be facing now or in the future.
In our experience, there's no one right way to solve a problem, and talking with others can be a great way to figure out the best solution for you, your organisation, and the context you're working in.
Seminars are led by the SafeStack crew. We have experience in a range of areas including as engineers, incident responders, developers, architects, analysts, and security testers. Learn more about our team here.
Seminar topics
Seminars will cover a range of application security topics and will often tie into events and campaigns that are happening in the community — for example, CERT NZ's Cyber Smart Week.
We also welcome your topic suggestions! Get in touch on support@safestack.io if you have ideas to share.
Seminar types
We host seminars once a month, and there are two types.
How we run our seminars
We use Crowdcast for our seminars, which allows you to join our live stream, ask questions, and chat with other attendees.
Our team chooses the day and time of each seminar, aiming to host them on weekdays around midday New Zealand time. If you're in a team that has a Guild subscription, we'll work with your team leaders to find a time that suits for your private seminar.
All our seminars are recorded, and you can watch the recording at the same link that you use to attend. The recording is annotated so you can see where specific questions were answered and key topics were addressed.
How to sign up for seminars
We'll email you a Crowdcast invite to each seminar, with the registration link included in the email.
Click the link, register, and you're all set!
We'll also send a reminder a day or two before the seminar, including some key points to get you thinking about the seminar topic.
You can also sign up to seminars within the learning platform
https://learn.safestack.io/seminars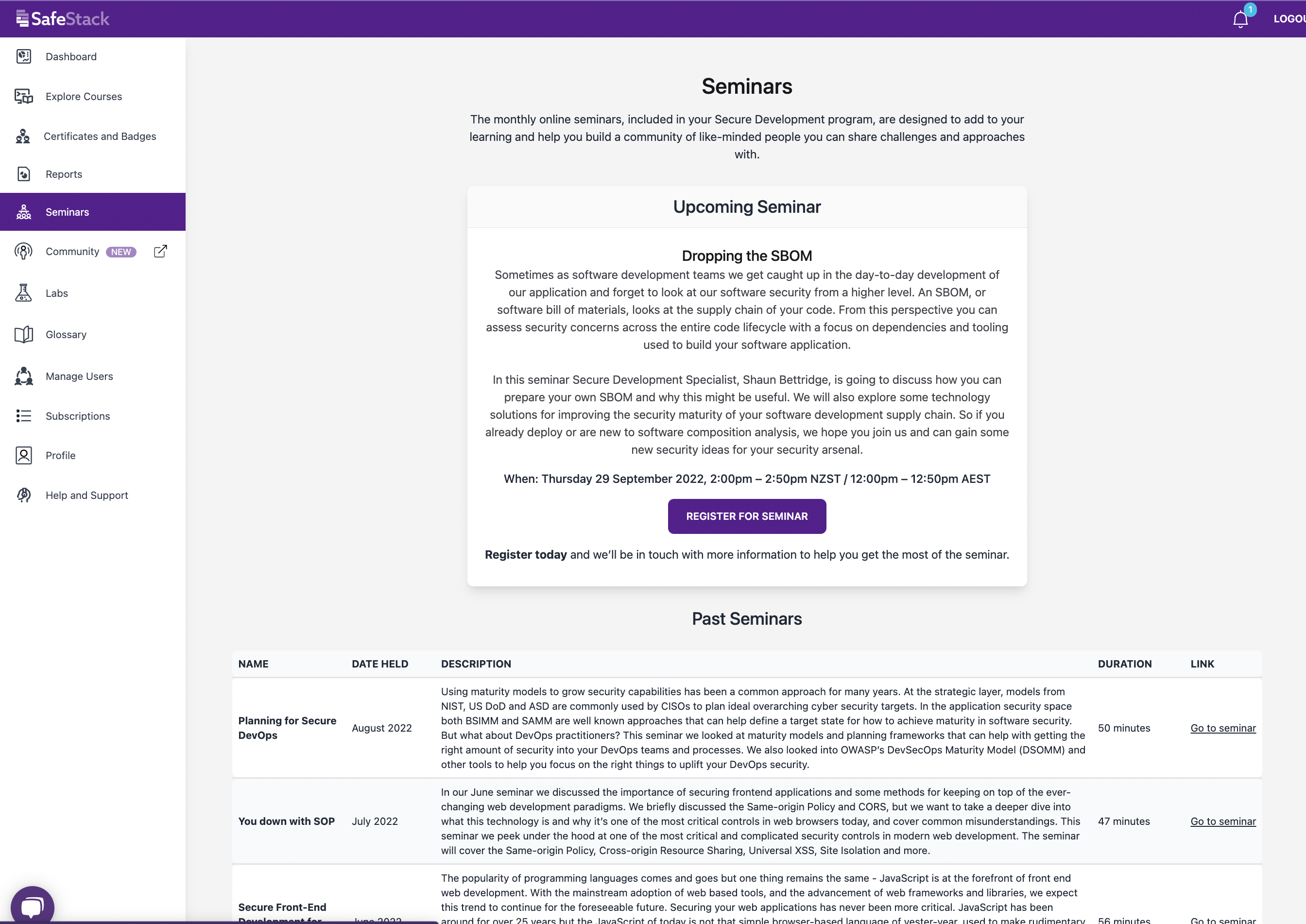 We love to hear from you
We want these seminars to be valuable for you, so we welcome any suggestions, topics, feedback, or comments — email us at support@safestack.io with anything you'd like to share.