This is a guide for learners of our Secure Development Program and covers the steps to setting up their account and getting the most out of their membership
This guide is for new Learners of the Secure Development Program.
Please keep in mind that not all features are available for free plans or trial periods.
Welcome to SafeStack!
---
Accept the invite
You will receive an email after the Group Leader of your team invites you.
Check your inbox and spam folders. The email will look like this: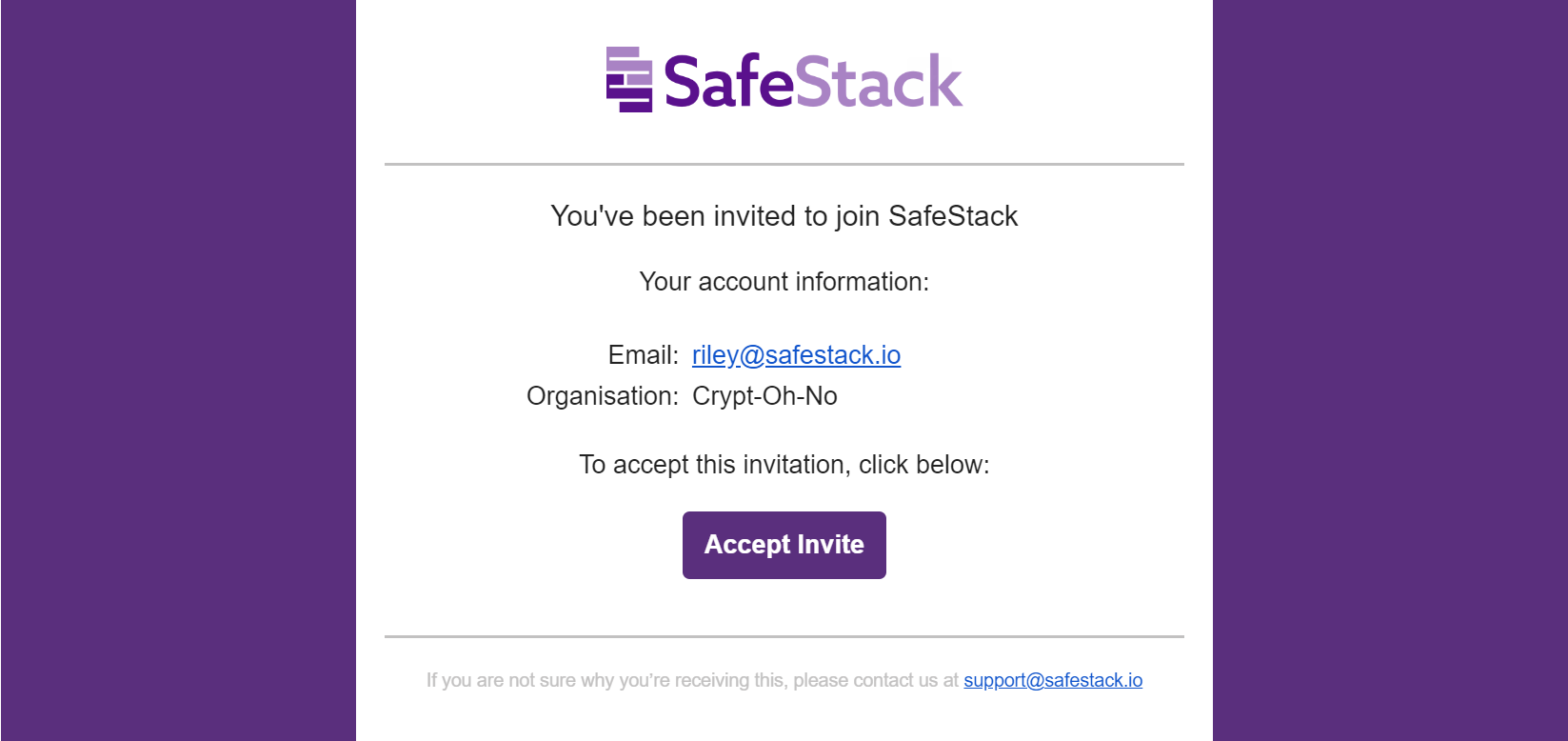 Click on Accept Invite and follow the instructions to set up your account.
If you're joining as part of an existing team, do not create an account via SafeStack website. You must join SafeStack via the invite link to be part of your company's SafeStack team.
Log in and explore the Learning Platform
Your learning journey starts on our Learning Platform: learn.safestack.io
Explore the options available on your platform. We recommend you take a tour with us and explore the features of the SafeStack platform. Click on the SHOW ME AROUND button
Confirm your profile details. The name will appear on your badges
Start your first course
On your dashboard, you will see your Learning Paths - The set of courses your Group Leader has assigned to you.
The dashboard will also show the option to resume your course, listing your most recently viewed course.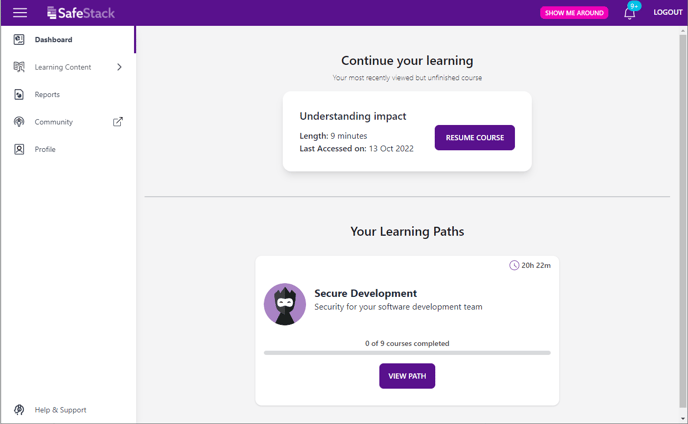 Labs
Every SafeStack Secure Development member has access to labs as part of their subscription. You'll find the lab exercises within the Secure Development modules in your SafeStack account. You don't have to complete the labs to complete the courses, but they're a great way to make the most of your learning experience. And if you need help with any of our labs, we offer hints or walkthroughs to help you complete them.
Badges
We've partnered with Credly to give you credentials when you complete our courses. These open badges are included as part of your SafeStack. Once you've claimed your credentials via Credly, you can use them in email signatures or digital CVs, as well as on LinkedIn, Facebook, and Twitter.
Community
The SafeStack Community is a digital gathering place for our paid Secure Development subscribers. It's a social learning environment where you can ask questions, collaborate and grow your skills. You will also find information about SafeStack's monthly seminars, as well as other industry conferences and events. Log in using your SafeStack credentials and start exploring, contributing, and learning.
Learn more about SafeStack Community
Seminars
Our SafeStack crew runs monthly seminars covering a range of application security topics. We livestream our community seminars directly to our SafeStack Community, which allows you to join our live stream, ask questions, and chat with other attendees.
All our seminars are recorded and can be replayed in the Community under Previous Seminars.
Get help and support
If you need help at any point, please take a look at our knowledge base. Covering essential subjects and frequently asked questions, this is your first place for support. You can also send a message to our friendly support team via Learning Platform.
All the best in your journey, and stay safe out there!